PowerDNS
Enhancing DNS for more than 20 years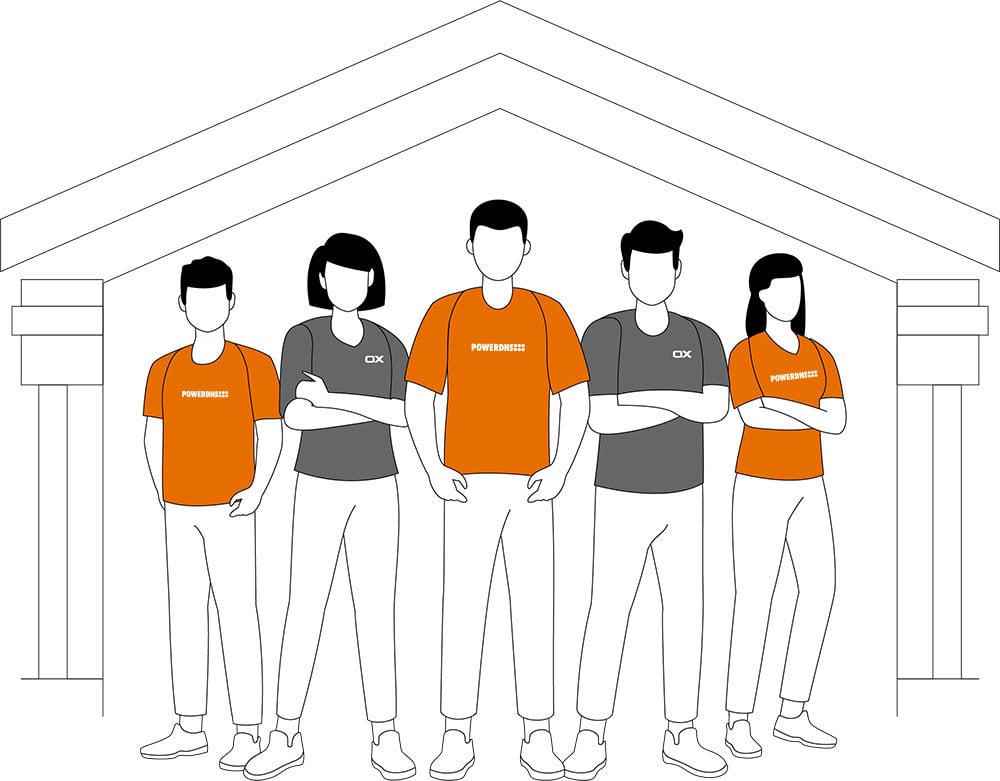 PowerDNS
Enhancing DNS for more than 20 years
From its foundation until today, PowerDNS has played a huge part in the development of current DNS solutions. We are proud to be recognized for being extremely active in addressing the demanding requirements on DNS software by continuously developing new approaches such as encrypted DNS, DNS-based security and cloud-native DNS, as well as contributing to standardization.
PowerDNS development started in 1999, with the goal of creating an alternative solution for DNS that could aid in rapid DNS-based geographical load balancing.

Originally closed source, PowerDNS software was released as open source in 2002.

After previously focusing on the PowerDNS Authoritative Server, a high-end, high-performance resolving name server, the PowerDNS Recursor, was launched. PowerDNS Recursor emerged to become a solution that nowadays powers the DNS resolution of hundreds of millions of internet users.

The commercial success of PowerDNS allowed us to devote significant resources to expanding our feature set. In 2012, this led to the widespread roll out of our innovative DNSSEC solution, which now powers over 90% of all DNSSEC domains in Europe.

In 2015, PowerDNS merged with Open-Xchange. Since then, PowerDNS has contributed to the Open-Xchange vision of a borderless internet that is open, safe and free.

When the IETF introduced two standards on DNS encryption, PowerDNS was amongst the first to adopt and offer encrypted DNS to protect the privacy of users and offer additional security through DNS-over-HTTPS (DoH) and DNS-over-TLS (DoT).

In recent years PowerDNS has supported the major shifts that have taken place in computing infrastructure. Firstly, away from physical infrastructure to virtualized infrastructure, followed by the subsequent deployment of SDN/NFV technologies; And, more recently, the shift from virtualized to cloud-native infrastructure, which is at the heart of the 5G revolution, amongst other things.

Today, PowerDNS customers, users and partners include leading telecommunications service providers, large scale integrators, content distribution networks, cable networks, security solution vendors and Fortune 500 software companies. In various regions and markets, PowerDNS is the number one supplier of nameserver software.

In addition, PowerDNS has grown a large and diverse open-source community, with over 1,000 members on its mailing lists, more than 200 participants on instant-messaging channels and dozens of active contributors.
Contributing To and Supporting the Internet
PowerDNS is an active and supporting member of DNS-OARC: "The DNS Operations, Analysis, and Research Center (DNS-OARC) brings together key operators, implementors, and researchers on a trusted platform so they can coordinate responses to attacks and other concerns, share information and learn together."
PowerDNS is an active contributor to the Internet Engineering Task Force (IETF) standards communities and workgroups, including authoring RFC 5452.
PowerDNS participates in standards development at RIPE, the European Regional Internet Registry.
PowerDNS is an active contributor to the open-source software, which we interoperate with or depend on, including ExaBGP, Luawrapper, Botan, incbin, MbedTLS, Unbound, NSD, BIND, OSX Homebrew, Ansible, and buildbot. We also work closely with downstream distributors (such as Debian and Fedora) to make sure their needs are covered.
PowerDNS is a member of a closed trust community of large-scale DNS operators and vendors.